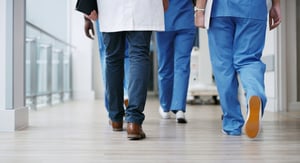 According to the American Academy of Family Physicians, any health condition that could interfere with a health care provider's judgment or other faculties needed as a clinician is referred to as an impairment.
Almost every state has a Physician's Health program in place to help diagnose, treat and monitor addictive behaviors—and the results of these intensive programs are impressive. (A five-year study of physicians who completed treatment and returned to practice under supervision and monitoring showed that 78.7% were licensed and working.)
Unfortunately, there are not yet similar programs in place to intervene, treat, coach and monitor other types of impairments ranging from depression and Alzheimer's to diabetes and Parkinson's—any one of which could seriously interfere with a health care provider's judgment and pose a threat to patient safety.
"Most institutions don't have a broad base of experience or clear guidelines for dealing with physicians experiencing those types of impairments," notes David Matthew, MD who serves as a consultant and physician peer coach for VITAL WorkLife.
"It can be incredibly helpful to bring in a third party who can open the lines of communication and do a thorough assessment," continues Matthew. "The institution can protect itself and patient safety while ensuring that the physician gets whatever support he or she needs."
An Impairment Breeding Ground
The stress of practicing medicine provides a breeding ground for psychiatric and substance abuse problems and can also aggravate underlying medical conditions. For example, a physician suffering from an autoimmune disorder, like Crohn's disease, may experience an increase in symptoms such as tiredness and lack of concentration when work becomes more stressful.
While long hours and making life and death decisions are nothing new for physicians, doctors today also face new stresses, including:
An expectation to see more patients while spending more time with each patient
Financial issues rising out of a changing reimbursement system
Difficulty finding time to stay current with new developments in medicine
Migration to electronic medical records (particularly challenging for older physicians)
Diminished control and authority in managed medical care environments
Conflicts at home compounded by long working hours
"Physicians are used to dealing with a lot of stress and will try to continue functioning no matter what's going on," notes Matthew. "If the stress becomes too much, the doctor will become dysfunctional despite his or her best efforts."
As a result of greater awareness about the problem of disruptive physicians, staff and patients are now more likely to report dysfunctional behaviors such as yelling, instrument throwing, dismissive attitudes and bullying. Yet doctors are still given the benefit of the doubt when behaviors such as lapses in memory, lateness, sleepiness or confusion occur. These behaviors often go unreported longer than they should.
Regardless of the underlying cause, once a pattern of complaints or observations is reported to an institution's executive or medical staff leadership, action should be taken.
Compassionate Intervention
VITAL WorkLife offers three types of services:
"Ideally, a physician comes to us before his or her behaviors provoke a full-blown intervention," says Matthew. "Whether physicians are self-referred or referred to us by their employees or colleagues, they're treated with compassion and discretion. The assurance of confidentiality is key."
Comprehensive Assessment
Sometimes underlying psychiatric problems are masked by substance abuse, which is why any intervention should begin with a comprehensive assessment of the impaired physician from a variety of angles. The assessment is conducted using a multi-disciplinary team selected for their expertise in several areas.
Physicians who occasionally abuse alcohol might not need treatment for chemical dependency. Lori Morris, MA, LPC, LADC, a chemical dependency counselor for VITAL WorkLife, recently recommended that a client referred for alcohol abuse should be treated for depression instead. "His sudden alcohol abuse was primarily a way of coping with a major grief he was experiencing. He responded well to psychotherapy and was able to curtail his use of alcohol."
According to Matthew, part of the problem in intervening and assessing physicians is that they are reluctant to recognize their own impairments. "Physicians like to think of themselves as being invincible, so it's harder for them to admit they're not able to function as well as they ordinarily do."
To learn more about our Physician Intervention solution, process and results, watch the video below:
Confidential Counseling, Peer Coaching and EAP Services
Once an assessment has been made and an action plan developed, VITAL WorkLife provides the services, referrals, monitoring and reporting needed either in or out of the physician's local base—depending on his or her preference. Confidentiality is assured around all issues other than where VITAL WorkLife is required by law to report to the institution and/or licensing board.
Physician peer coaching is an important and unique advantage provided by VITAL WorkLife, whether it's accessed through the EAP or through the intervention program. "Physicians are much more comfortable working with someone outside their own medical community," notes Matthew. "They are also more comfortable talking to a peer, someone who's shared the same stresses and workload."
In addition to peer coaching, the Physician Well Being Resources includes a wide range of support services that can prevent or reduce stress in a physician's life, ranging from marriage and individual counseling, to financial and legal services, to concierge services designed to maximize the quantity and quality of a physician's personal time.
"Institutions that encourage physicians to take advantage of our Physician Well Being Resources services may prevent problems from occurring at all," concludes Matthew. "Helping highly trained physicians maintain and improve their physical, emotional and behavioral health has benefits for everyone in the healthcare communities they serve.
We Can Help
To learn more about our extensive Physician Well Being Resources and how it can help improve the well being of your clinicians, contact us!